Nutrisoft Emerald
This Metatron 4017 system uses a TGIv2.1 860MHz generator. Although this system uses hardware technology over 20 years old, it was rereleased with this newly designed software, Nutrisoft Emerald, in order to try and curtail counterfeiting. This softare has many of "Metapathia GR Hunter" software functions, including the continuous spiral scanning feature which increases health assessment speed by three times as compared to original 4017 Metatron Systems. One of the most doubtless advantages of this new "Metatron" -4017 hardware-software version is the combination of low price and high hardware quality. As with all other Metatron Systems, these systems are manufactured in accordance with ISO 13485 medical device standards. Nutrisoft Emerald is recommended for any practitioner on a low budget who is interesting in learning about NLS Diagnostic Technology. Also, anyone considering a counterfeit system should purchase this system as its function will be vastly superior at a fraction of the cost counterfeiters often charge their customers.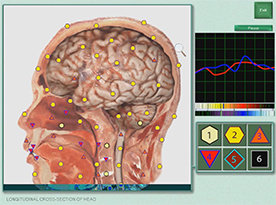 A note on Metatron Counterfeiting 
The world's criminal element has taken advantage of the uniqueness of this technology and the isolated location of the legal manufacturer to defraud consumers on a global scale. Although counterfeit manufacturers often advertise their systems have 4.9GHz generators that is seldom the case and most use the older 860MHz generators…if they have generators at all. In fact, most counterfeit systems contain empty hardware boxes, containing no hardware components of an actual NLS Diagnostic System. The duped buyer than installs a software program on their PC that runs nothing more than health simulations. Sometimes the "Doctor's" who use these systems are in on the fraud, and encode their supplement lines into the software program. Once the fraudulent health assessment is run the Doctor proceeds to sell their supplements or drugs to the unknowing patient. Sadly, this is a common practice around the world. We implore any interested NLS Diagnostics buyer to verify all manufacturing certificates and Government Registration/Certification numbers with the appropriate certifying or regulatory organizations.
Screenshots
What's Included
Video
System Requirements
Literature
In a standard packaging arrangement of METATRON included:
Bioinducters with trigger sensor, rigorously stated form (no any earphones, manual electrodes and pulse fixers) with model name
Bioresonance camera, rigorously stated form, size and color
The notebook HP ProBook series with installed software (in packaging of Metapathia GR Hunter is also included flash-disk with program files)
Power supply unit for device, network adapter for laptop, USB-cable
Technical documentation (user's manual and technical passport)
System requirements
Minimum System Requirements for Metatron "GR Hunter" and "Nutrisoft Emerald":
Operating system: Windows XP/ Vista / Windows 7 (32 bit)
Processor: at least 1, 5 GHz
RAM: 1 GB
HDD: 60 GB
CD-ROM
At least 3 USB slots
PC Laptop Recommendations
For maximum "Metatron" hardware-software system stability it is recommended to use the following notebook brands:
Normal Metatron System operation is possible while using other laptop brands but an operator may encounter hardware failures during operation. According to the global Metatron statistics of user submissions to technical support, approximately 80% of complaints occurred because of notebook-hardware conflict. The recommended brands for reliable use of "Metatron" hardware-software system were never cited during the history of user complaints. Due to the vast selection of PC desktops there is not enough data to provide system suggestions..