Metatron GR Hunter

* Note: Hunter was discontinued in 2016.  Any new Metatron Hunter systems you see marketed on the internet are counterfeits. We do sell used Hunter systems if they are available.  Please contact us if you would like to make an offer to an existing owner.  Accepted bids tend to be around US$10,000.
"Metapathia GR Hunter" (Hunter) software was originally developed in
2006 and was the first software program released for the new class of Metatron 4025 systems, which feature the 4.9Ghz TGIII class of frequency generators. These developments combined to increase the average accuracy of a functional health assessment to 79.9%* and research speed was increased an astounding 5 times. Also, Biofeedback Therapy (referred to as "Meta-Therapy") effectiveness was dramatically improved as a patient's stress reduction and sense of greater well-being was obvious. As a result of these advvancements, word of mouth quickly spread awareness about a new emerging biofeedback technology from Russia which spurred the ongoing global sales boom.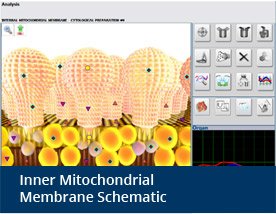 Hunter has been continuously updated since inception and is considered by us to be the most stable Metatron software available. It is very rare that NPD's current Hunter users experience a minor software error. We estimate 1 pop-up error per 1000 biofeedback sessions.
The software contains 1432 virtual models of organs, joints, chromosomes, DNA and cells, which allows performance of a comprehensive functional health assessment and biofeedback therapy. Most notably, this was the first system to feature the "Spiral Scanning" function, which automated the process of determining how deep a functional abnormality penetrated. No longer did the operator have to manually research histological and cytological models to determine the extent of the identified problem.
Other key features include:
Intuitively obvious user interface with all functions marked by easily remembered visually distinct symbols. Therefore, short training times are required to achieve operational proficiency.
Spectrums of pharmaceutical drugs, nutraceuticals, herbs, minerals and gems are included which assists selection according to individual biocompatibility.
Evaluate functional status of bacteria, viruses, fungi, protozoa, amoebas and helminthes
Identification of homeopathic medications with potency and combinations taken into consideration.
Metatron Hunter is suitable for all classes of western medical professionals, Naturopaths & Holistic Practitioners, Chiropractors and Pharmacists.
Screenshots
What's Included
Video
System Requirements
Literature
ISO 13485 certified Bioinducters with trigger sensor
ISO 13485 certified Metatron 4025 hardware system
Power supply unit for device, network adapter for laptop, USB-cable
Technical documentation (73 page user's manual and technical passport)
Metapathia GR Hunter software downloaded via online link to your own computer
Magnetic Resonance Cup for making homeopathics
Training is negotiated with either the owner of the used Metatron Hunter unit or NPD
System requirements
Minimum System Requirements for Metatron "GR Hunter" and "Nutrisoft Emerald":
Operating system: Windows XP/ Vista / Windows 7 (32 bit)
Processor: at least 1, 5 GHz
RAM: 1 GB
HDD: 60 GB
CD-ROM
At least 3 USB slots
At least 3 USB slots
PC Laptop Recommendations
For maximum "Metatron" hardware-software system stability it is recommended to use the following notebook brands:
Normal Metatron System operation is possible while using other laptop brands but an operator may encounter hardware failures during operation. According to the global Metatron statistics of user submissions to technical support, approximately 80% of complaints occurred because of notebook-hardware conflict. The recommended brands for reliable use of "Metatron" hardware-software system were never cited during the history of user complaints. Due to the vast selection of PC desktops there is not enough data to provide system suggestions..